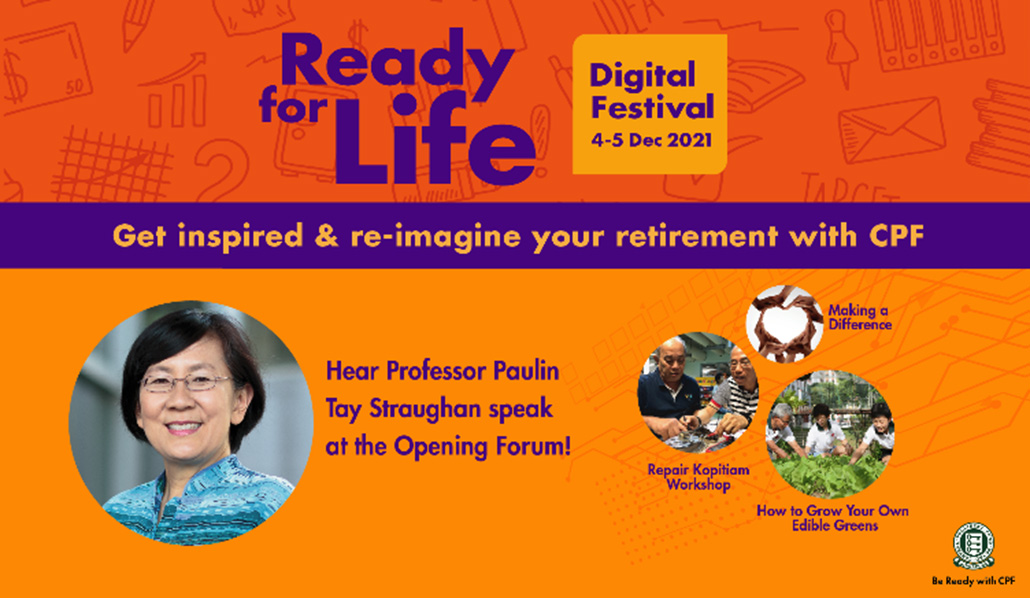 Inaugural CPFB "Ready for Life" Digital Festival
-
Online Event Platform
CPFB's "Ready for Life" Digital Festival aims to inspire members to uncover their purpose in life and retirement goals. Happening on 4 and 5 December, the festival aims to broaden participants' mindset of what it means to age and why it is important to view retirement planning holistically.
We are happy to share that Professor Paulin Tay Straughan has been invited to speak at the "Ready for Life" Opening Forum. In her sharing, she will touch on ROSA's construct of well-being and what it means to age well. Alongside a panel of experts from Central Provident Fund Board and Providend, they will discuss more on how to lead the good life and what makes a purposeful retirement.
The Festival also features an exciting line-up of webinars and online workshops to help members uncover their purpose in life and re-imagine their retirement so that they are motivated to plan for their retirement with their CPF. Attendees can sign up for webinars or workshops on elderpreneurship, volunteerism, gardening tips and even introductory Parkour for all ages. There are also CPF Talks on Maximising Your Money, Taking Charge of Healthcare Costs and Legacy Planning and CPF Nomination.
All webinars and workshops will be conducted online on CPF's event platform. Registration is free.
If you would like more details on the Digital Festival, please click here.
To register for the event, please click here.