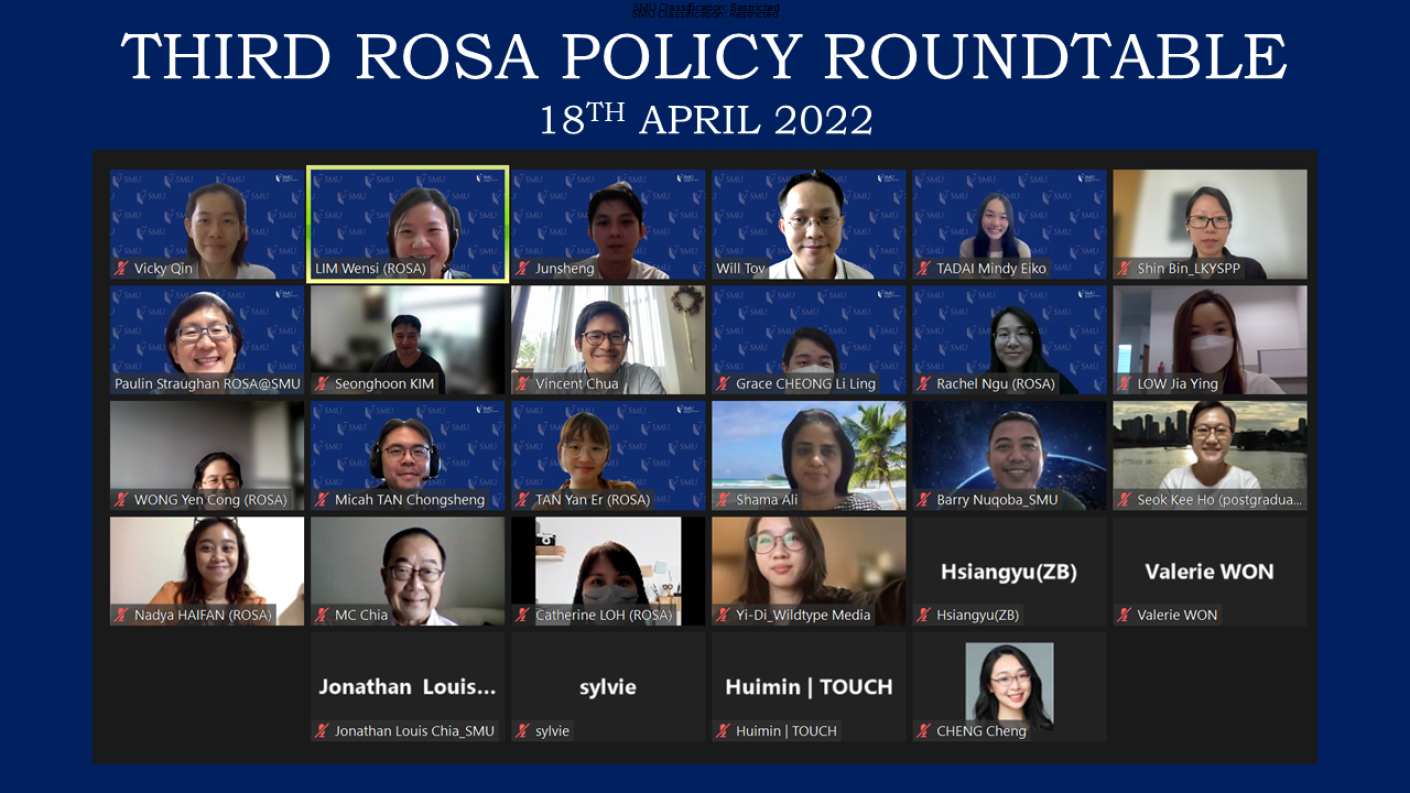 Improving Healthcare Utilisation and Health Education among Older Singaporeans
The third ROSA Policy Roundtable was held on 18th April 2022, and themed on improving healthcare utilisation and health education among middle-aged and older adults. The virtual roundtable was attended by more than 40 participants from various academic institutions, government agencies, and media and non-profit sectors.
Researchers at ROSA presented preliminary findings on some of the key challenges to increasing the healthspan of older adults, as well as provided insightful health-related policy implications. In addition, this roundtable featured emerging research topics at ROSA, such as physical and mental health satisfaction and the Silver Zone scheme.
After a warm introduction by Professor Paulin Straughan, Director of ROSA, the roundtable commenced with a keynote presentation on healthcare utilisation by Mr Micah Tan, Research Associate at ROSA, and Associate Professor Vincent Chua, NUS Sociology, on the compensatory role of social networks in cases of low healthcare accessibility among middle-aged and older adults. The study found that:
Only 61% of respondents stated that they would visit a healthcare professional all the time when in need of healthcare advice.
14% of respondents living in HDB flats stated that they do not have a clinic (GP/hospital) within a 10-minute walk from their home.
In situations where healthcare accessibility is low, social networks serve as an important 'buffer' in encouraging middle-aged and older adults to visit a clinic when needed.
This is likely due to the fact that social networks provide both tangible (e.g., accompanying the individual to see a doctor) and intangible support (e.g., casual conversations and nudges to seek healthcare advice) that encourage middle-aged and older adults to visit a clinic when needed.
Based on these findings, Mr Tan offered three main policy implications. Firstly, social network interventions aimed at encouraging middle-aged and older adults to visit a conventional medicine physician when needed would be most effective in neighborhoods with few medical services available and should be targeted at conservative medicine users. Secondly, interventions to address healthcare accessibility could aim to increase the number of GPs and polyclinics in neighborhoods where respondents are likely to be more isolated and less integrated with their networks. And finally, educating middle-aged and older adults on how to utilize tele-medicine services would reduce the need for middle-aged and older adults to physically travel to healthcare facilities and hence make such services more accessible, which would be likely to increase healthcare visits.
Furthermore, Professor Chua noted that the importance of this study is not just the act of visiting a healthcare clinic, but the interplay of social networking and physical infrastructure coming together that shapes the process of healthcare utilization. He further commented that older adults cannot afford to live alone – they need to be connected to others and directed to available healthcare services.
The second presentation on health education was delivered by Dr Vicky Qin, Research Fellow at ROSA, and Associate Professor Seonghoon Kim, Deputy Director of ROSA. Set against the backdrop of rising obesity rates in Singapore and the recent MOH roll-out of the HealthierSG initiative aimed at enhancing preventive care, Dr Qin and Professor Kim presented their findings on a health education intervention that was administered using a randomized control trial method, using SLP data from January 2022 as a baseline. They found that:
Older adults may have misperceptions of their own body mass index (BMI). More than 40% of participants perceived their body weight as being overweight and 10% as being underweight.
Participants who perceived slightly overweight, multimorbidity of chronic diseases, more educated, and wealthier are more willing to receive health information about obesity.
Participants with high receptiveness of health information are more likely to report better health, life satisfaction, less depressive symptoms.
Immediate effect was found on better life satisfaction after 1-month intervention.
Based on these findings, Dr Qin and Professor Kim recommend disseminating public health education via internet-based technology among older adults given the success in increasing life satisfaction in older adults following the health intervention. Additionally, they suggest the need to improve older adults' understanding of weight, receptivity of health information and preventive self-care, such that older adults can foster healthier behaviour, increase their quality of life, and improve access to healthcare.
In the third presentation on emerging research at ROSA, Dr Shin Bin Tan, Postdoctoral Fellow at the NUS Lee Kuan Yew School of Public Policy (LKYSPP), shared preliminary findings on whether the Silver Zone Scheme contributes to an increase in social participation and social satisfaction among older adults living nearby these zones. Dr Tan's exploratory cross-sectional analysis found that:
The increase in the number of Silver Zones nearby was associated with increased frequency of leaving the house, but not other measures of social participation or satisfaction.
Reduced distance to Silver Zones did not seem to be associated with outcomes of interest.
Dr Tan noted that pedestrian-friendly neighbourhoods are theorised to encourage greater social interaction, community engagement, and social inclusion. Her preliminary findings suggest the need for more longitudinal studies to unpack the effect of improvements to pedestrian environments, particularly for older adult populations. As such, Dr Tan aims to develop longitudinal models (e.g., incorporating individual and time fixed effects), identify physical and mental health outcomes, test different distance thresholds for silver zones' effect (e.g., 200m, 600m), and perform additional robustness checks.
In the fourth presentation on emerging research at ROSA, Mr Keh Jun Sheng, PhD Candidate in Psychology at SMU, and Associate Professor William Tov, Deputy Director of ROSA, discussed demographic correlates of satisfaction with physical and mental health. They have preliminarily found that:
There is a faster decline of physical health satisfaction, compared to mental health satisfaction. 
Physical health plays a larger role than mental health in older adults' assessment of their own subjective health.
More educated people tend to be more satisfied with their mental health.
Based on these findings, this study underscores the importance of raising awareness regarding the role of mental health in subjective health evaluations among older adults. In addition, more research is needed to understand the process through which education influences older adult mental health satisfaction (e.g., education may grant access to more cognitively stimulating jobs which benefits mental health).
Following each of the presentations, the Q&A sessions led to robust discussions on possible ways to increase healthspan and tackle the challenges of an ageing population holistically. In summary, the key policy takeaways of this roundtable include:
Emphasising preventive healthcare to seniors (in line with the HealthierSG initiative announced by MOH this year)
Tapping on community resources and networks to support seniors who may need additional assistance to seek medical advice and to improve physical availability of clinics in the longer term.
Providing health information directly to seniors to raise their awareness of important health indicators and trends (e.g. instead of traditional way of public education via public talks or official websites, to send targeted frequent messages to seniors using internet-based technology).
Reimagining the built environment in order to improve access for our seniors to encourage them to increase the frequency of leaving their house while minimising risk of injuries and accidents.
Recognising that healthspan does not only include physical health (e.g. disability free years), but also the importance of mental, social and economic well-being.
In conclusion, we would like to thank The Ngee Ann Kongsi and the Ministry of Education for making this event possible, and to all attendees for their support and active participation. The ROSA researchers received invaluable feedback on their preliminary studies and remain committed to driving original research projects and building new collaborations.
We look forward to seeing you at our next event!