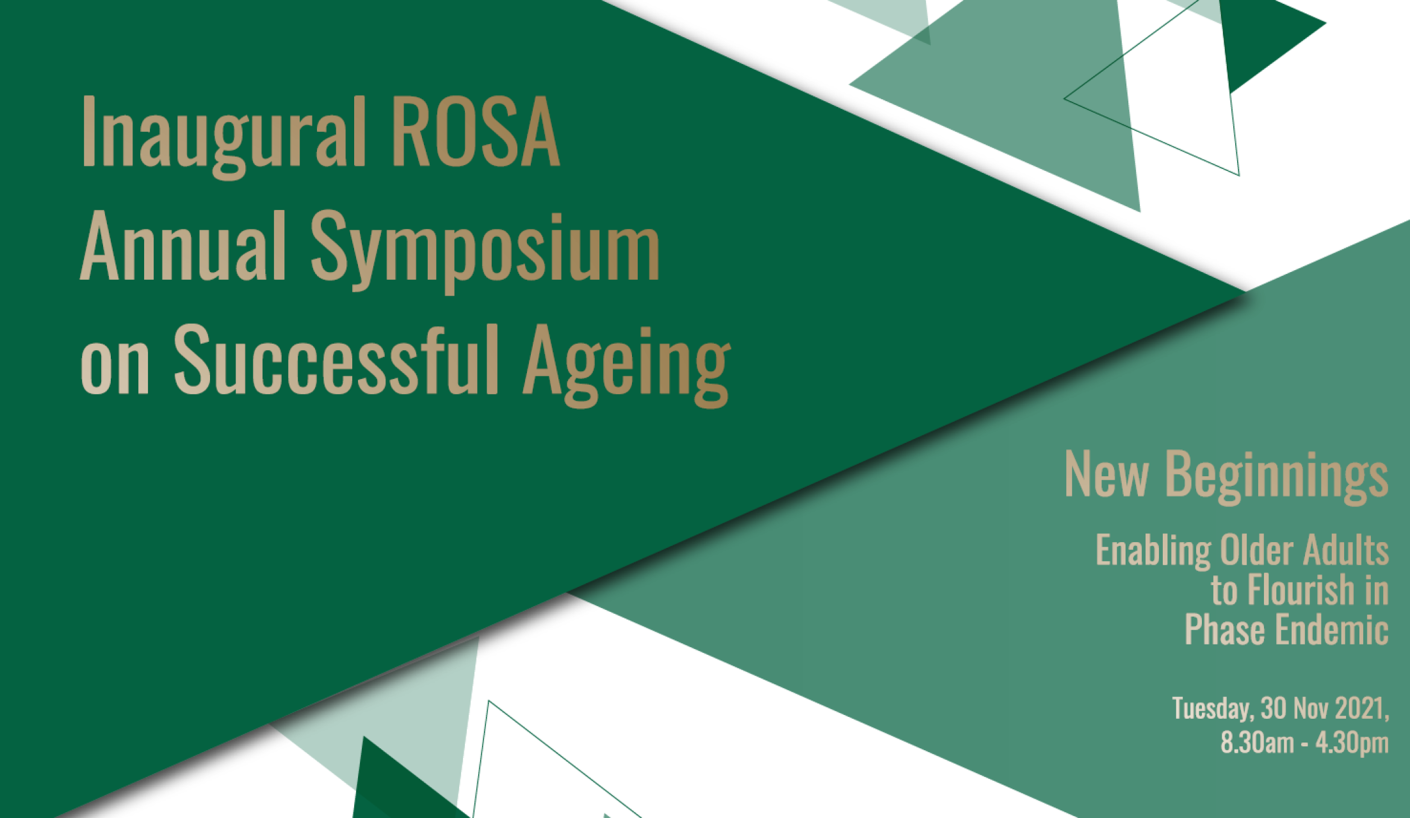 SMU Mochtar Riady Auditorium /Zoom Webinar (the symposium is a hybrid event)
ROSA's annual symposium aims to bring members of the academic community, government ministries and local organizations together to engage in meaningful conversations that facilitate the advancement of successful ageing in the Singapore landscape. As the life expectancy of Singaporeans continues to exceed the global average, identifying how Singaporeans are able to enjoy their years of longevity well is an increasingly pertinent issue for researchers and policy makers alike. Thus, with a holistic approach towards older adult well-being, ROSA intends to champion the well-being of older adults and reframe the notion of ageing through evidence-based research, and translate academic insights into palpable change for the community.
Themed "New beginnings – enabling older adults to flourish in phase endemic", ROSA's first annual symposium will focus on how older adults can be supported, and ultimately thrive, in endemic COVID-19. The past year and a half has been fraught with much uncertainty surrounding the pandemic, and has certainly disrupted the everyday. These changes have been challenging for everyone, especially so for older persons, and have pronounced issues older adults have faced even prior to the pandemic. Thus, the pandemic has also presented the opportunity to pinpoint the existing gaps, and also inform areas where older adults need to be supported in Singapore's move towards the endemic. Specifically, this symposium will place analytical focus on how the COVID-19 pandemic has impacted the well-being of older adults on the psychological, social and economic front, and address how the lessons learnt from COVID-19 can hone future efforts which intend to safeguard the well-being of older persons.
The ROSA Symposium will serve as a platform for discussion surrounding the above issues and feature the works of renowned ageing researcher, Rector Professor Ursula Staudinger from the Technical University Dresden, Professor Paulin Straughan, Director of ROSA, Assistant Professor Seonghoon Kim, Deputy Director of ROSA, and Associate Professor William Tov, Deputy Director of ROSA. In addition to their presentations, our researchers will also be engaged in panel discussions with leaders from distinguished organizations in relevant industries such as NTUC, TOUCH Community Services, NVPC, AIC, SAMH, Fe Yue, and SNEF. The aim of these discussions will be to foster practical insights into how we can best support older adults during 'phase endemic'. Last but certainly not least, we are also very honored to have Minister of Manpower Dr Tan See Leng grace the symposium as guest of honor.
Singapore Life Panel members who would like attend the webinar via Zoom may do so using the sign-up link provided in the November survey invitation letter, or you may use the link below to sign up to attend.
If you would like more details on the program, please click here.
To register for the event, please click here.
Tuesday, 30 November 2021

8.30 am – 9.00 am

Registration

9.00 am – 9.10 am

Welcome Remarks by SMU President, Professor Lily Kong

9.10 am – 9.30 am

Guest of Honour's Address by Minister for Manpower, Dr Tan See Leng

9.30 am – 10.30 am

Keynote Lecture: The Positive Plasticity Paradigm: Re-thinking Human Aging by Professor Ursula M. Staudinger

10.30 am – 11.30 am

Keynote Panel: Enabling Older Adults to Flourish in Phase Endemic
Panellists:
Mr James Teo, President, The Ngee Ann Kongsi
Professor Ursula M. Staudinger, Rector, Technische Universität Dresden
Professor Paulin Straughan, Director, ROSA

11.30 am – 12.40 pm

Lunch Break

12.40 pm – 12.45 pm

Brief Overview of Impact of COVID-19 on the Well-being of Older Adults by Mr Micah Tan, Research Associate, ROSA

12.45 pm – 1.00 pm

First Presentation: Tracking Economic Well-being of Older Singaporeans using the Singapore Life Panel Data by Assistant Professor Seonghoon Kim

1.00 pm – 1.40 pm

First Panel: Older Adult Economic Well-being in COVID Endemic
Panellists:
Moderator: Associate Professor William Tov, Deputy Director, ROSA
Assistant Professor Seonghoon Kim, ROSA Deputy Director
Ms K Thanaletchimi, Vice President,National Trades Union Congress (NTUC) Central Committee, and President, Healthcare Services Employees' Union
Mr Edwin Lye, Assistant Executive Director (Industrial Relations and Membership), Singapore National Employers Federation

1.40 pm – 1.45 pm

Break

1.45 pm – 2.00 pm

Second Presentation: Psychological Resilience 3-4 Months After the 'Circuit Breaker' by Associate Professor William Tov

2.00 pm – 2.40 pm

Second Panel: Older Adults Mental Resilience and Well-being in COVID Endemic
Panellists:
Moderator: Associate Professor Hwajin Yang, Singapore Management University
Associate Professor William Tov, Deputy Director, ROSA

Dr Thang Leng Leng, Board member of Fei Yue Community Services, and Co-director, Next Age Institute, NUS
Dr Lee Cheng, Vice President,Singapore Association for Mental Health

2.40 pm – 2.45 pm

Break

2.45 pm – 3.00 pm

Third Presentation: Social Integration and Older Adult Well-being during COVID-19 by Professor Paulin Straughan

3.00 pm – 4.15 pm

Social Integration Panel and Q&A Session: Discussing the Social Integration of Older Adults in Singapore in Phase Endemic

Panellists:
Moderator/Presenter: Professor Paulin Straughan, Director, ROSA
Mr Tan Kwang Cheak, CEO, Agency for Integrated Care
Ms Melissa Kwee, CEO, National Volunteer and Philanthropy Centre
Mr James Tan, CEO, TOUCH Community Services

4.15 pm – 4.30 pm

Closing Remarks by Professor Paulin Straughan