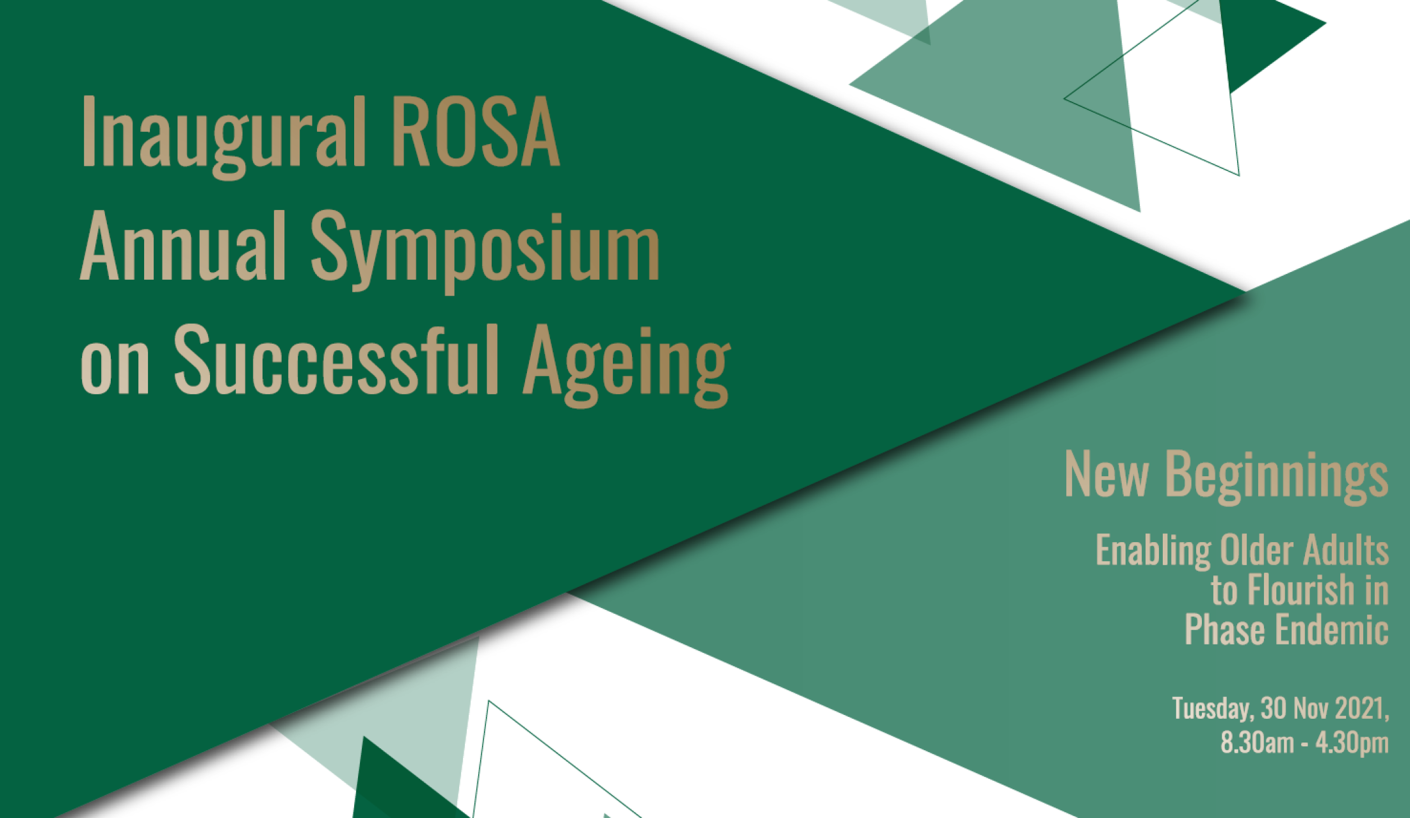 SMU Mochtar Riady Auditorium /Zoom Webinar (the symposium is a hybrid event)
Inaugural ROSA Annual Symposium on Successful Ageing 
The Inaugural ROSA Annual Symposium on Successful Ageing was held on the 30th of November 2021 and was a hybrid event, taking place both virtually over Zoom and with a physical audience as well. The theme of the symposium was "New beginnings – enabling older adults to flourish in phase endemic." The event was a large success, being one of the first in-person events held by SMU since the pandemic began and it illustrated the University's concerted effort to transition to living with an endemic COVID-19. The symposium was also graced by many distinguished guests, most notably Minister for Manpower Dr Tan See Leng who was the guest of honor for the event, senior representatives from The Ngee Ann Kongsi, Professor Ursula Staudinger, Rector of the Technische Universität Dresden who was the keynote speaker for the symposium, and Professor Lily Kong, president of the Singapore Management University. In total, ­­over 160 participants from over 32 organizations attended the symposium both physically and virtually.
Opening Segment
Opening speech
The symposium kicked off with an opening message by Professor Lily Kong who brought attention to the gravity of the need to support older adults both during the pandemic and as the country moved into the endemic phase of COVID-19. She highlighted a finding from the Singapore Life Panel® (SLP) that showed that over 80% of older adults surveyed in October 2021 either slightly agreed, agreed, or strongly agreed that they are worried about what living with endemic COVID-19 would mean, indicating that there are possible challenges for this demographic. According to Professor Kong, this need to support older adults during this trying period accentuates the importance of centres like ROSA that are able to provide timely advice to ministries on the policies most needed to support older adults.
Guest of Honour's address
Following the opening message by Professor Kong, Dr Tan See Leng, Minister for Manpower, provided his guest of honour's address. You may view Dr Tan's full speech here.
Presentations and Panels
Segway to presentations and panels
After the opening segment began a series of presentations and panel discussions addressing different aspects of the issue of supporting older adult well-being as we move forward into the endemic phase of COVID-19. The presentations and panel discussions were split into 4 different sessions that took place over the day; the keynote presentation and panel, the economic well-being presentation and panel, the psychological well-being presentation and panel, and finally the social integration panel. Below are the summaries of the key points that were raised during each session.    
Keynote presentation by Professor Ursula Staudinger, Rector, Technische Universität Dresden